Of Pre-Owned Vehicles And Pre-Owned Hearts
My father has a theory about used cars. Don't buy one with under 60K miles on it. If something major is going to go wrong with the car and need to be repaired, it will happen before 60K and, in that case, why not let the previous owner foot the bill for those repairs? After 60K, the major kinks are worked out and you're probably getting a decent – albeit not low mileage –  vehicle. A friend and I were discussing this theory on the way to Enterprise yesterday to pick up a rental car for a work trip she was going on. Of course, the conversation swung around to relationships, as it often does.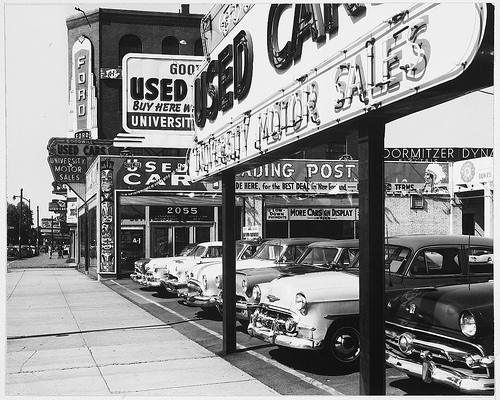 My dad's car advice applies to people as well. There's no need to be scared of folks with a few miles on their souls. Eventually, we all get rust spots and loose fan belts and the exhaust starts to go. If you opt for shiny and new, know that you're going to be the one who's on the hook for those needed psychic repairs at some point in the future. Maybe you're fine with that and maybe helping someone else fight through their growing pains into full adulthood is more of a responsibility than you're willing to shoulder. If you choose a pre-loved model instead, a lot of that work has – ideally – been done for you. You're missing out on whatever the human equivalent of that seductive new car smell is, but you're meeting someone at the point where they've already made a lot of their mistakes, learned lessons the hard way and have settled into the self they intend to be for the next forty or fifty years. Maybe that isn't a self you want to be with, but you can at least be reasonably confident that it's a pretty solidly defined one.
With people and with vehicles, it's all about trade-offs and where your priorities lie when it comes to allocating your limited budget. Four-wheel drive vs. sun roof. Kindness vs. ambition. Style vs. efficiency. And sometimes, it pays to skip next year's model in the showroom and put your faith in a tried-and-true workhorse. Just don't forget to renew your AAA membership.
Related GenMeh goodness: