Whimsy, Wendys and What I've Been Up To
I knew Annie Passanisi and I were kindred spirits when she unveiled her plan for world domination and it involved trademarked t-shirts and kissing booths.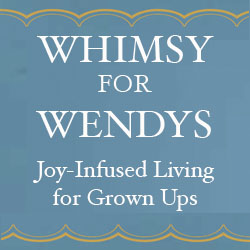 I was delighted when she asked me to be a contributor to Whimsy for Wendys, her brand new e-book baby. As much as I alternately reject and grudgingly tolerate the Manic Pixie Dream Girl thing (but mostly reject), I was tickled pink to join with 11 other awesome internet ladies to write about how to keep your sense of wonder,  joy and delusions of existential grandeur alive in a world that has little time for such seeming nonsense. My particular piece addresses how to hold onto whimsy in the workplace and includes road-tested tips from my white-collar life.
Working with Annie and co. was a fabulous experience (so fab that she and I have another killer collaboration in the works) and I couldn't have chosen a better project with which to finally dip my toes in the e-book pool.
If you want to learn more about Whimsy for Wendys or grab your own copy (early birds also snag a host of freebies and discounts, including a deal on copywriting services from yours truly), hop on over to the main site.
And if you ask really nicely, I might just tell you about the business trip where I stayed in a hotel room next door to a dead body. That little anecdote narrowly missed making the cut in my contribution.
Related GenMeh goodness: