No Free Rides: Love, Support And the American Dream
The latest installment of the American Dream Essay Series (door is always open to submissions) comes to us from Chanelle Schneider. Also known as @WriterChanelle on Twitter, she runs her own blog at ToThereFromHere where she offers career and life advice for Generation Y, with a specific focus on those older GenYers who have yet to graduate from college. Chanelle is the founder of the generational chat #GenYChat on Twitter and manages the @GenYChat account. She is also a freelance writer and is currently working on a film script.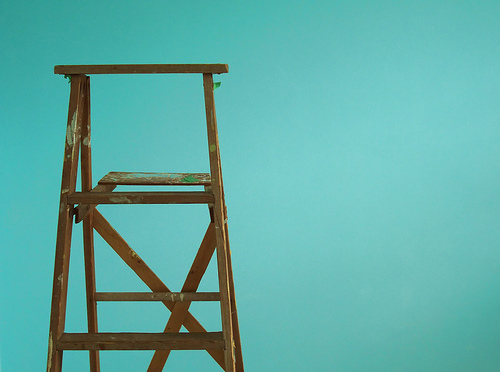 Photo by Esther Gibbons
The American Dream is only the American Dream for those who have been privileged enough to have access to the raw materials to construct their own. For those who don't, the American Dream is a distant star in a sky filled with such similar platitudes as "a piece of the pie." I want a piece of this pie. Where is it? Who baked it? How much does it cost? You know nothing is free.  "The way they get that slice is through education."
The one thing that is supposed to be free?  Love. But even love is being monetized lately. Love and support go hand in hand. The key to obtaining this piece of the pie is in finding the support to build your dreams. Support can be pretty difficult to find, though.
It would be quite altruistic of people to support everyone they loved. If love is supposed to be unconditional and granted a priori, then it would be sufficient to say it would be quite altruistic of people to support everyone. Since love is becoming a capitalist endeavor whereby one must have some measure of financial prosperity, or, at least, be headed toward it, support is getting harder and harder to come by. For those who have access, support is a given. For those on the bottom rung, support is hoped for and rarely received. For those in the middle, though, they assumed that support would be granted. In a society where upward mobility is often dependent upon the class you were born into, the American Dream is closely linked to financial success. Financial success is tied to employment. Employment is tied to ability. Or…wait. Is it?
For example, I often wonder about the purpose of a resume, a tool that is supposed to be useful in identifying ability and talent. However, for most people the resume is a perfunctory document given after the connection is made to a potential employer. If jobs are found through your personal network by someone who has given you a recommendation, why is it necessary? The employer recognized your ability only after the support of someone in your network. Thus, employment is tied, first, to support, then to ability. And the American Dream hinges upon support. Obtaining it, though, leads directly into a Catch-22. When you're part of the middle class, people want to support you only when it's clear that you're not a financial risk. Much like trying to obtain credit or a student loan without a history of repayment, you need a co-signer. The co-signer is willing to vouch for your future ability to repay (in dollars or productivity) the support. Without this support, it's impossible to get further in the application process, and you have to wait until you can prove your ability on your own.
And there are a lot of us out here who just can't find that support for one reason or another.
-Chanelle Schneider
Related GenMeh goodness: