Guest Post: Poetry in Motion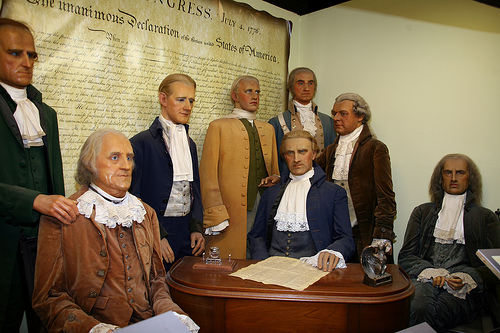 Photo by cliff1066
The next installment in GenMeh's American Dream Essay series comes to us courtesy of Bethany Moore. She describes her poetic inspiration as follows:
The piece American Daughters was written when I was living & working in Washington DC as a church-state separation activist on Capitol Hill, and I'd occasionally feel full of piss and vinegar enough to write a poem like this about the frustrations of being a woman who is limited or even threatened by her own role in society.
American Daughters
Founding Fathers!
Men of America who oversaw
The birth of this country,
Did you see it coming?
By it, I mean us?
Did you hear the cries
Of this nation's labor pains echo through
the chambers of your declaration signing?
Did you see us coming;
The women, the mothers
Of the people whom you
Would govern?
Did you see us in your vision?
Could you predict that we
Would demand sovereignty
Over our wombs?
When you envisioned the Industrial Revolution,
did you see us as part of the grand design
as baby-making factories?
Would you see us line up
Not for an equal vote,
But to produce more workers,
To create more widgets,
To support a macho capitalist nation?
Would you create a country
Whose government agencies would
Sub-contract out our uterus, our wombs,
To replenish your military forces?
Founding Fathers,
Stop a moment,
Before you sign your
John Hancock,
Have you asked your wives,
Your mothers, your daughters?
Have you asked them what they will need,
What they will want,
Have you asked them
What's in store for women,
What our stories will be
As our history books are written?
Did you envision the struggle?
Was it part of your plan
To hold us down, silence us,
Tie our hands behind our backs,
Slap an apron and high heels on us,
And send us alone to the kitchen,
Alone to the delivery room,
Alone to the abortion clinic?
Founding Fathers
While you were deciding on
An eagle, a hawk, or a turkey,
We were praying for doves of peace.
Founding Fathers,
Hear us now, your daughters,
As we wail and roar,
And sing for freedom
Bethany Moore lives in Portland, OR, where she is building her one-woman media & PR business,  Beatnik Betty Productions, in response to the challenging economic times.  Bethany is a published poet, writer and activist and advocates for medical marijuana laws as well as religious equality for Earth-based spirituality.
Related GenMeh goodness: