Lessons Gleaned From The Year Of The Guinea Pig Thus Far
A few months ago, I wrote about 2010 being the Year of The Guinea Pig. I thought this was an appropriate juncture to revisit the topic and update you with lessons that I've gleaned from the experience to date. It's not an exhaustive list and some of these points deserve (and will get) their own future posts.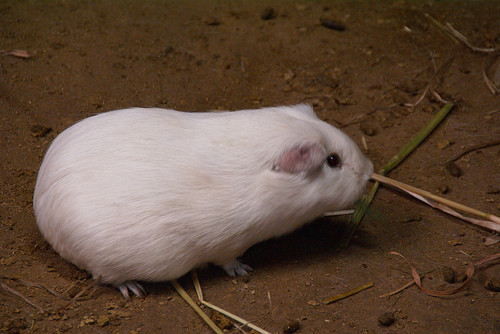 Photo by palindrome6996
Context is critical. I hear that a lot with respect to online content, but it applies even more so to life in general. How much easier is it to take chances, risks, be innovative, whimsical, bold, etc. when you're living a lifestyle that supports this approach and are surrounded by people (heck, even having one is a huge step up) who are doing likewise? Answer: immeasurably. I will devote a post to this in the near future.
Meet every instance of hesitancy or doubt with "What's the worst case scenario?" and refuse to accept, "I might look or feel stupid or be rejected." as a strong enough answer to dissuade you from forging ahead. Eventually, you develop calluses on your ego that buffer the sting of rejection, anyway. And the more callused you are, the more you can put yourself out there on a bigger and grander scale and be okay with being shrugged off. Or so says the girl who sent an email to the managing editor of a national publication informing her that she absolutely needed to hire me as a columnist. She apparently didn't agree. C'est la vie, kiddos.
We all have a thing that we're fiercely possessive and territorial about.  Much better that thing should be a ratty old teddy bear from your infancy than, say, the very public craft of writing itself.  Just saying.
When the going gets tough, the tough score tickets to see a-ha. And every time they look at the tickets, they start to giggle.
One big project is better for your sanity than multiple smaller ones and usually produces a bigger impact than splitting your attention between all of the potential irons in the fire.
Wisconsinite is apparently an insult on par with being called an anti-sex homophobe. Bet you didn't know that.
It's a tit-for-tat world. It really, really is. You will have to give something of yourself (your time, your attention, your talent, your engagement with the rest of humanity) in order to receive anything in return. Call it taking a risk, reaching out, getting the ball rolling, but you will have to initiate some sort of action in order to see change or movement. Good things don't just come to those who pine for them while sitting on their sofa. I think this deserves its own discussion as well.
Keep notes. Always.
If you're young, female, single and straight, you might want to do a little cursory research before packing up and moving to a city whose male population is seemingly 85% gay.
Sometimes, Life plays hard to get and you've gotta make the first move. And the second. And the third. Don't sweat it, eventually your charm will wear it down and it will give up the goods. Or take out a restraining order.
There will always be vacuous/annoying/shallow/mercenary/unflattering adjective of your choice folks who have achieved or have been gifted with things you want. Don't focus on the fact that they don't deserve these things, focus on how you can get them for yourself. In fact, stop focusing on these people entirely. Do not follow their progress, don't analyze their path and its "lessons," don't try to connect with them, etc. Pretend they don't exist and keep doing things your way. When the hell has stewing over cosmic injustice without any intention of taking steps to rectify or address it actually improved the quality of anyone's life or helped their blood pressure? It hasn't. Ever. Let it go.
The Junior League doesn't want me. I sent them an email about info on joining a couple of months ago and still haven't received a response. It's because the only pearls I own are plastic and cost me $1.99 at Claire's, isn't it?
Related GenMeh goodness: