List Served #7 Insomniac Ideation
List Served is a semi-regular feature wherein I present you with an ordered grouping of (at least tangentially) related points. I love lists and the internet loves ephemeral minutiae. It's all good.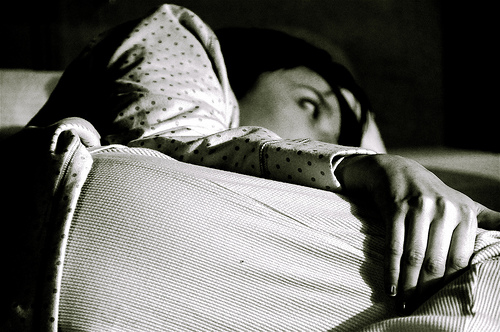 Photo by Alyssa L. Miller

A Sampling of Thoughts Crossing My Mind in the Wee Small Hours of The Morning When I Should Be Sleeping, But Haven't Been for the Last Month

Trying to remember the name of the actress who played the doctor's secretary on Empty Nest
Why, even if it says scent-free, sunscreen always has that smell to it
How far I could get in 24 hours via Amtrak
Potential occupations of my neighbor based on the assorted items he leaves outside of his apartment door. I've settled on hipster stuntman
How proud of I am of the fact that my bedroom window covering is actually made from a repurposed shower curtain and YOU TOTALLY CAN'T TELL BY LOOKING AT IT
My worrying new love for caps lock
The relative merits of playground tire swings vs. regular playground swings. Regular swings still win, FYI
The fact that I can never remember how to spell petechia, or why I'd even need to know this
Exactly how hard it would be to grow a kombucha mother from scratch and what the odds would be of accidentally poisoning myself with the resultant tea. And would the risk be worth it?
I'm aware that something happened on the way to heaven, but why doesn't Phil Collins ever clarify what it was?
P.S. I've announced it in other venues (Twitter, facebook, an ad in Variety), but I'll be taking on a new gig for April and May, namely guest blogging for Bitch Magazine on issues of youth identity, socieconomics, pop culture and post-millennial angst. So, in addition to your regularly-scheduled GenMeh and Warp and Weft programming, you can check out The Young and The Feckless on Mondays, Wednesdays and Fridays if you're so inclined.
Related GenMeh goodness: