Listen Up: A Tutorial On Making Mix Tapes
Owing to a number of factors (promising a bunch of folks I'd make them one, fighting insomnia by thinking of wacky playlists, this piece from a True/Slant colleague), mix tapes (henceforth referred to as mix cds because we are in the 21st century) have been on my mind lately. The selection and arranging of just the right mix of complementary songs is serious business. Given that I consider myself pretty skilled in this arena, I thought I'd share my top tips for crafting note-perfect mix cds.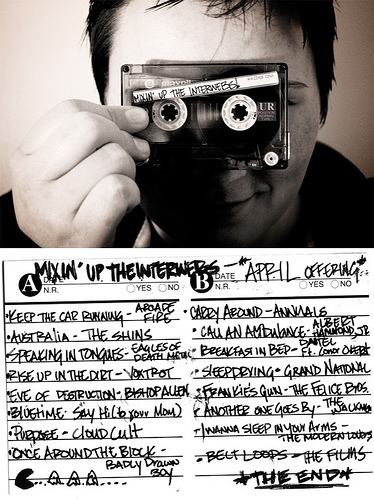 Photo by jk5854
Themes are your friend
Unless I want to use the disc as a piece of propaganda to convince someone why they need to drop everything and become a fan of x artist and his entire catalogue right now, I rarely make a cd without a theme. There's a whole lotta music in the world and choosing to zero in on only a tiny little portion of it means that you aren't overwhelmed by potential choices. The more specific your theme is, the better. For example, instead of Canadian Artists, why not opt for The Worst Songs Canada Has Ever Foisted Upon the Rest of The World (My Heart Will Go On, Skaterboi, Have You Ever Really Loved a Woman?, etc.). Being very targeted with your theme also provides a nice little challenge when it comes to finding enough songs to fill out the ranks. Goes without saying that I enjoy a good challenge. For example, how about a cd devoted entirely to songs about rain* (Have You Ever Seen The Rain?, Umbrella, Rainy Days and Mondays, etc.) or maybe one focusing on secular songs with religious references* (Personal Jesus, God Only Knows, Like a Prayer, etc.)? Themes also take your taste and that of the potential recipient out of the equation, so there's no worrying that your friendship will be forever doomed because she doesn't share your boundless enthusiasm for Bright Eyes (please tell me you're not boundlessly enthusiastic about Bright Eyes).
There are always rules
There are rules for how to choose songs and how the mix cd recipient should listen to the end product. In the first case, I like to make sure to include at least one song from each mainstream musical genre if possible and to only use one song from a given artist. Depending on your theme, there may be a need for additional guidelines. For example, when I make a geography-based mix, I include songs that have the place name in the title or lyrics as well as songs from artists whole hail from the thematic city or state. If, however, an artist from a particular place also has a song about that place, I will include that song even if there are other choices that I find preferable. For example, If I were to make a New York City cd, I'd have to include Billy Joel's New York State of Mind over something like Only the Good Die Young. Them's the breaks.
When it comes to rules for the listener, mine are simple; you must listen to the whole cd all the way through on the first listen (no skipping past songs you don't like) and you must play all of the songs in order. Threatening to smite people if they don't comply is wholly optional.
Be careful with context
While a solid theme takes a lot of the guesswork out of making a mix, the end result comes down to a judgment call re: what's appropriate and what's just downright awkward. If you're making a horticulture-themed cd for your former college roommate, no matter how well it fits the theme, you might want to omit Bon Jovi's Bed of Roses once you remember that she and the boyfriend who cheated on her during freshman year considered it to be their song back in the day.
Currently, I have a Motown-themed cd on my to-mix list and I've already run up against a potential issue in the form of Marvin Gaye's Let's Get it On. On one hand, it's a seminal (heh) classic of the genre. On the other, it's a whole lotta song, a whole lotta suggestive song. Sorta breaks the lighthearted poppy flow of the Temptations, Four Tops et al. and takes things to a weird PG place. In the end, it will probably make the cut because A) it is a classic and B) throwing it in there is really too hilarious to resist.
* These will probably end up on my to-mix, too. Am also contemplating the idea of a Monarchy Mix (Two Princes, King of Wishful Thinking, Queen of the Night, etc.)
Related GenMeh goodness: