List Served #7 – Items Unearthed While Packing For The Great Move of 2010
List Served is a semi-regular feature wherein I present you with an ordered grouping of (at least tangentially) related points. I love lists and the internet loves ephemeral minutiae. It's all good.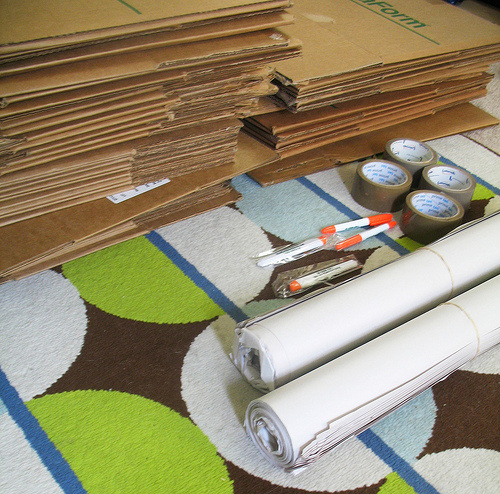 Photo by Rakka
A gift bag containing three giant Lush bath bombs that were meant as a present for someone whose birthday party I didn't end up attending.
The business card from this story.  No sentimentality involved,  I just never clean out the bottom of my purse.
Two bottles of ibuprofen, neither of which were anywhere to be found last week when I had a splitting headache.
The box for every single box-bound item that I have bought in the last three and a half years. Never know when you're going to have to repackage your $9 can opener.
An drawer filled entirely with safety pins.
Approximately 431 scraps of paper with phone numbers, dates and random words scrawled on them, all without context, of course. Apparently, Oct 17, 2008 was a red-letter day. Somewhere. For someone.
Three non-working laptops, two of which I had forgotten I even had in my possession and one of which weighs approximately as much as an early model VCR.
A 2006 calendar featuring 12 months of dachshunds.
The sunglasses my sister  shamed me out of ever wearing again after she disgustedly informed me that they looked like ones our uncle would sport out on the golf course. Point taken.
A pair of silver-green child-sized Crocs, of which I have no memory of purchasing or being gifted with.
Four Susan B. silver dollars. These made me smile.
My MA degree certificate. In a box of scarves and mittens.
Related GenMeh goodness: