Immediate Availability: 3 Apartment Hunting Tips To Apply to Your Love Life
I spent the weekend apartment hunting. Or rather, I spent 16 hours on Saturday apartment hunting and those 16 hours included the six hours of air and land travel time to get to my destination city and back.  It was an exhausting goose chase (wild or not still to be determined), especially since I consider moving just about the most torturous activity ever. The loooong commute back home did give me a chance to think, though. And I decided that looking for a place to live has a lot in common with looking for love. Yes, I'm serious.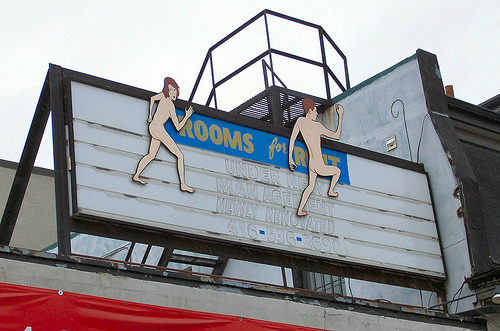 Photo by *ASAP*
3 Apartment Hunting Tips to Apply to Your Love Life
Know your dealbreakers, but keep an open mind about everything else
Instead of approaching the endeavor with a checklist of characteristics your ideal living space (or mate) possesses, figure out what you absolutely won't tolerate and be flexible about the rest. In my case, I refuse to live in a basement apartment and I don't want a roommate or roommates, but I'm pretty apathetic about a balcony and could take or leave hardwood floors. By ruling out a few key dealbreakers, you rule everything else in by default. This gives you a much wider pool of options to choose from and increases the likelihood of finding a space or a person who fits your needs well, even if it/they wouldn't have initially been on your radar if you used the checklist of criteria approach.
Be realistic
Your odds of finding a spacious, bright one-bedroom condo with all utilities included, close to public transit, night life and green space with huge closets, a fireplace and an en suite washer and dryer for $600/month in the city of your choice hover between slim and none. You can have a some of these things, but it will mean giving up others. Or maybe you can  have all of them if you choose to relocate to the suburbs of Butte, Montana or are willing to pay $1500/month in Chicago. And just like there isn't a perfect apartment, there isn't a perfect partner. Every space and every person has  flaws – noisy neighbours, a tiny kitchen, a profoundly messy streak, a strange attachment to collecting vintage porcelain dolls, etc, etc. Holding out for the ideal is just a way of avoiding having to fully commit to the real and the current. If this is temporary, why bother investing? Better to wait for when the real, the permanent, the one comes along. Then you can finally put down roots, finally open up, stop holding your breath and start feeling. Well, enjoy your bare walls in the meantime, because with fantasyland standards, it's gonna be a long wait.
Understand the whole different strokes for different folks thing
In addition to all the research and legwork I've done on my own, quite a few kind friends have offered me apartment hunting advice, tips and leads. And believe it or not, there's been very little overlap when it comes to neighhborhoods they've suggested checking out or amenities they prize as must-haves. I find the divergent ideas of what to look for to be a fascinating peek at the offering parties' own preferences and priorities. Ditto for the dating world. Not everyone is looking for the same thing, so when you receive well-meaning advice on finding Ms. or Mr. Right, you need to consider the context in which it was offered (What type of individuals does this person typically have relationships with? Are these generally healthy relationships? Do you share common values with this person?) and reconcile it with your own self-identified needs. Don't be afraid to discard wisdom (whether from friends or "experts") that doesn't reflect your life or resonate with your gut. You should know you better than anyone else.

Related GenMeh goodness: