A scheduling conflict meant that I had to switch out hip hop for jazz this week. The following end-of-class convo sums up the experience nicely:
Classmate # 1: So, are you going to come back next week?
Me: Um…
Classmate #1: You should. You'll pick it up eventually. E is an awesome teacher.  And the rest of us don't mind.  It's not like some classes where everyone is super competitive.
Classmate #2: There are adult classes like that?
Classmate #1: Oh, for sure. Everyone wants to be the best and pick up the choreography the fastest. And if you're slow or no good, they…
Me: Shun you?
Classmate# 1: Yeah, pretty much.
Me: Awesome.
And then I ran out the door and all the way home.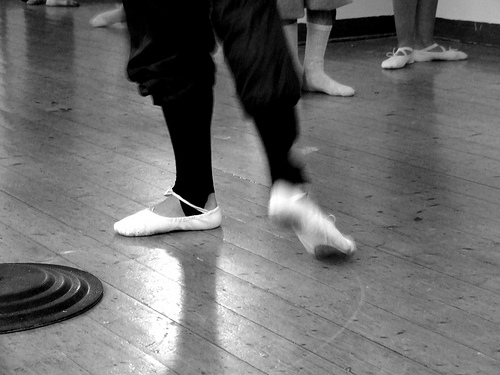 Photo by Emily's mind
While hip hop was all about bringing the sexy, this weird ballet/jazz hybrid hinges on being graceful. Assemblie.  Attitude. Chasse. Jete. Passe. Plie. Kill me now.
At one point, I looked over at the mirror to find that I was standing there with my face all scrunched up, biting my lip and making my patented Precious Moments expression*. God, why am I not learning to box like a normal rageaholic instead?
The one bright spot being that I've finally gotten Forever out of my head; it's been replaced by Keri Hilson's Knock You Down.
Definitely disaster over dessert, though.
*Can't remember who first noticed the resemblance and coined this descriptor, but I find it hilarious and highly accurate.
Related GenMeh goodness: