Monsters Inc.: Building The Panda With Cookie Brand
Rogue Models highlights interviews and discussions with diverse twenty and thirtysomethings who are putting their money where their mouths are when it comes to pursuing happiness and personal/professional fulfillment on their own terms. This is the third installment in the series.

It's not a word I throw around lightly, but Lisa Coulson is downright delightful. Ditto, her whimsical handcrafts. Lisa and I know each other through the vast vegan underground (psst, we're everywhere)  and when GenMeh was but a gleam in my eye, I extracted a promise from her to do an eventual guest post about on the risks and rewards associated with being a working artist and launching one's own craft business.  You can read her thoughts below.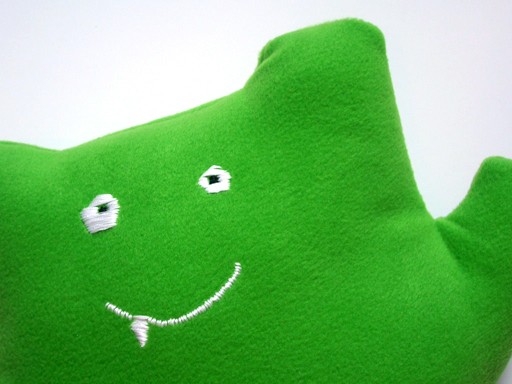 Photo Courtesy of Panda With Cookie
Hello,  gentle reader. Allow me to introduce myself. I know we will be the best of friends. I am an independent contractor in the art world and a small business owner in the craft world with an online Etsy store called Panda With Cookie. This means I assist artists in their studios in order to pay the rent and work on my own things in my free time.
I began in the fall of 2008 after the realization that the art world and I are not the most compatible and I would need to find another creative outlet for my own work. I've always liked the idea of running my own business and friends had, for a while, been encouraging me to open an online shop for the random things I make. Being an independent contractor means no set hours, no job security and no health insurance.  Running a small business as a side gig to supplement my income seemed like a good idea.
I did a little research, made 12 items and listed them. The sales, they did not exactly pour in. As I learned more and got advice, my shop slowly improved. An online store means a lot of online promotion, so I spend a fair amount of time on the computer not making anything. I have to be a photographer, so I can post appealing pictures of a wee monster so you'll want to buy it. This is perhaps the most important thing and one that is difficult when living in a small NYC apartment with poor light sources. I have to write charming descriptions of my tote bags so you can't live without one. I have to twitter and facebook and blog to keep a presence. And then I have to make the products, so I can promote them in the first place. I pay to do an outdoor fair and then hope the weather cooperates and we aren't rained out (many fairs do not give refunds). I am a single lady (put your hands up indeed, Beyonce), so I don't have anyone to catch me should I stumble and fall.
In late winter I begin to think of the possibility of turning my side business into a full time gig. I started doing my first live in-person shows and fairs in May and have been trying to book as much as possible through the holidays. I live in a large city with good public transportation, so of course I don't have a car. Guess what would be extremely helpful in hauling about bins of monsters and folding tables? A car. Sure I can get a cab, but I can only spend so much before all profit for the day is gone. So I usually pack up my hand truck and walk through the streets of Brooklyn if possible.
I have gotten a few comments about how lucky I am to be living the dream. Working in art studios! Making your own stuff! Such fun! Gentle reader, I assure you, I am not living any dream. Working on a business is just that: work.  As sole proprietor, employee and promoter, all of the work is on my shoulders.  My business does not pay the bills, and certainly not in NYC, so I create for it when I can at night or when I am out of a job for a month and living on savings.
I am pleased to be moving toward what I want to do, but as with most things in life, there are both good and bad aspects. Yes, I get to create for a living. I am using my MFA.  And it is a pleasure to sell to an eight year-old whose face lights up when they see my work. But I also worry constantly about money and making ends meet. I am currently trying to figure out if a move to a more affordable location will eventually lead to supporting myself with my craft. To me that isn't living the dream. It's just living and struggling to do it my way.
Tune in tomorrow for an exclusive Panda With Cookie tutorial on the ins and outs of setting up an Etsy shop!
Related GenMeh goodness: