List Served #1 – Fully Booked
List Served is a weekly feature wherein I present you with an ordered grouping of (at least tangentially) related points. I love lists and the internet loves ephemeral minutiae. It's all good.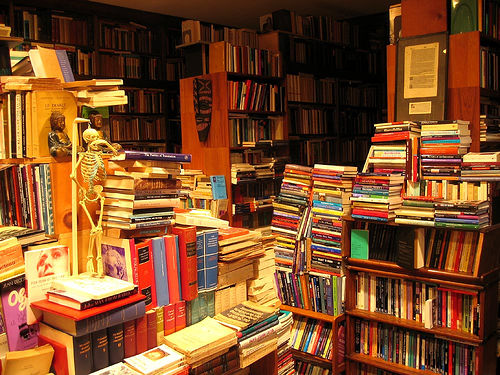 Photo by underpuppy
A Complete Accounting of The Books Currently on My Request List at the Public Library

The 4-hour Workweek: Escape 9-5, Live Anywhere, and Join the New Rich

–

Timothy Ferriss

And Then There's This: How Stories Live and Die in Viral Culture

– Bill Wasik

The Big Switch: Rewiring the World, from Edison to Google

– Nicholas Carr

Emergency: This Book Will Save Your Life

– Neil Strauss

Pontypool Changes Everything: A Novel

*

– Tony Burgess

The Whuffie Factor: Using the Power of Social Networks to Build your Business

– Tara Hunt

Cheap: The High Cost of Discount Culture – Ellen Ruppel Shell

The Peep Diaries: How We're Learning to Love Watching Ourselves and Our Neighbors – Hal Niedzviecki

God, when did I turn into such a Web 2.0 bourgeoisie? I feel a little dirty now.

At least my New Year's Resolution to only read books whose titles contain colons is coming along nicely.
* Source material for the best zombie movie that I've seen in a looooong time. Hands down.

Related GenMeh goodness: